The post ETF Sector Rotation generated some good ideas on what to try differently. This post will focus on two ideas on the Select Sector SPDR ETFs. The next post will look at two ideas using Fidelity sector mutual funds.
ETF Universe
These tests will use the Select Sector SPDR ETFs. The list is
Consumer Discretionary (XLY)
Consumer Staples (XLP)
Energy (XLE)
Financials (XLF)
Health Care (XLV)
Industrials (XLI)
Materials (XLB)
Technology (XLK)
Utilities (XLU)
Testing will be from 2005 to 3/31/2015.
Dual Momentum Baseline
From the last post, the dual momentum gave the best results which will be our baseline. For the rules go see that post at ETF Sector Rotation

Idea1: Rank by multiple ROCs
The first idea submitted by multiple readers is to use multiple look back periods for Rate of Change.
Rules
Rank the ETFs by the average of the 3/6/9/12 month's performance. Formula is (ROC 3 month + ROC 6 month + ROC 9 month + ROC 12 month)/4.
Buy the top 3 ETFs if the ETF average performance is greater than the average performance of the safe ETF (SHY, IEF, TLT)
Buy at open at beginning of the month.
Results1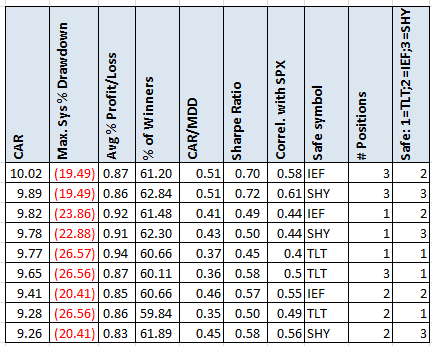 The results don't improve on the baseline.
Idea 2: Rank by N month return but ignore the first month
Instead of ranking on the 6 month return of the ETFS, the ranking return is calculation by ignoring the most recent month. If we wanted the 6 month rank on the ETF and today is June 30, we then use the return from Dec 31 to May 31. The idea being that one avoids ETFs experiencing a blow off. I have tested this before on different universes but with no success. Maybe it will be different on these ETFs.
Rules
Rank ETFs from high to low using the N month return but ignore the most recent month. If N=6, then return is from the close N months ago to the close N-1 months ago.
If the return during this period does not exceed the safe ETF (IEF, SHY, TLT), invest in the safe ETF.
Results 2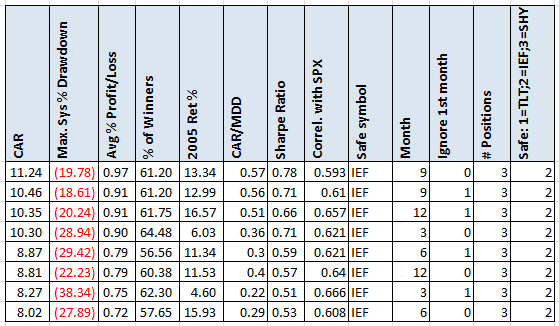 The top item here comes close to matching the baseline. The test includes ignoring the first month (value=1) and not ignoring it (value = 0). The results show little difference. In these cases I always go for the simpler rule, which is use the current month.
Spreadsheet
Fill the form below to get the spreadsheet with lots of additional information. This includes yearly breakdown, different maximum holdings, and additional statistics.
Final Thoughts
Unfortunately the results did not improve from what we had last time. It is always a good to test new ideas. I am always surprised but what works and what does not. Keep the research suggestions coming. The next post will focus on the Fidelity sector mutual funds.
Good quant trading,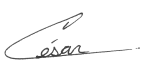 Fill in for free spreadsheet: