A reader recently introduced me to Heikin-Ashi charts. Popular with forex traders for showing trends which at first look of chart sure seems that way. Look at these two daily charts. The top one is a standard Candlestick chart while the bottom is Heikin-Ashi chart.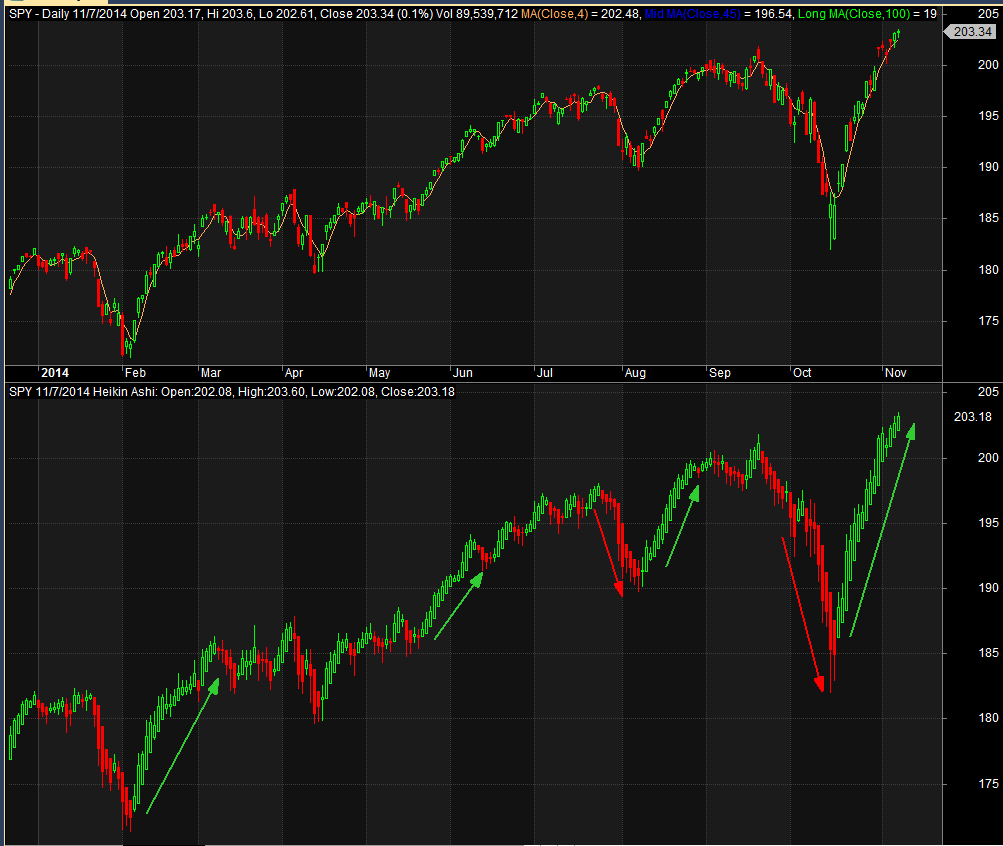 The trend of unbroken green sure seems more obvious and stronger in the Heikin-Ashi chart. Will testing confirm this?
Explanation of Heikin-Ashi
Stockcharts.com has a good explanation of Heikin-Ashi charts and the calculation.
Heikin-Ashi Candlesticks are an offshoot from Japanese candlesticks. Heikin-Ashi Candlesticks use the open-close data from the prior period and the open-high-low-close data from the current period to create a combo candlestick. The resulting candlestick filters out some noise in an effort to better capture the trend. … Heikin-Ashi Candlesticks are not used like normal candlesticks. … Instead, these candlesticks can be used to identify trending periods, potential reversal points and classic technical analysis patterns.
Testing Details
For these tests, the focus is on ETFs, for a change, with the testing dates from 1/1/2006 to 6/30/2014.
Daily Timeframe
Searching around, one common way to use Heikin-Ashi is by pairing it with MACD indicator. I tried several parameters and rules with MACD but could not come with anything that produced interesting numbers. Another indicator I saw paired with Heikin-Ashi is stochastics. Again everything I tried here did not lead to any interesting numbers.
Monthly Timeframe
Looking at a monthly timeframe on the SPY, the trends seem even more pronounced.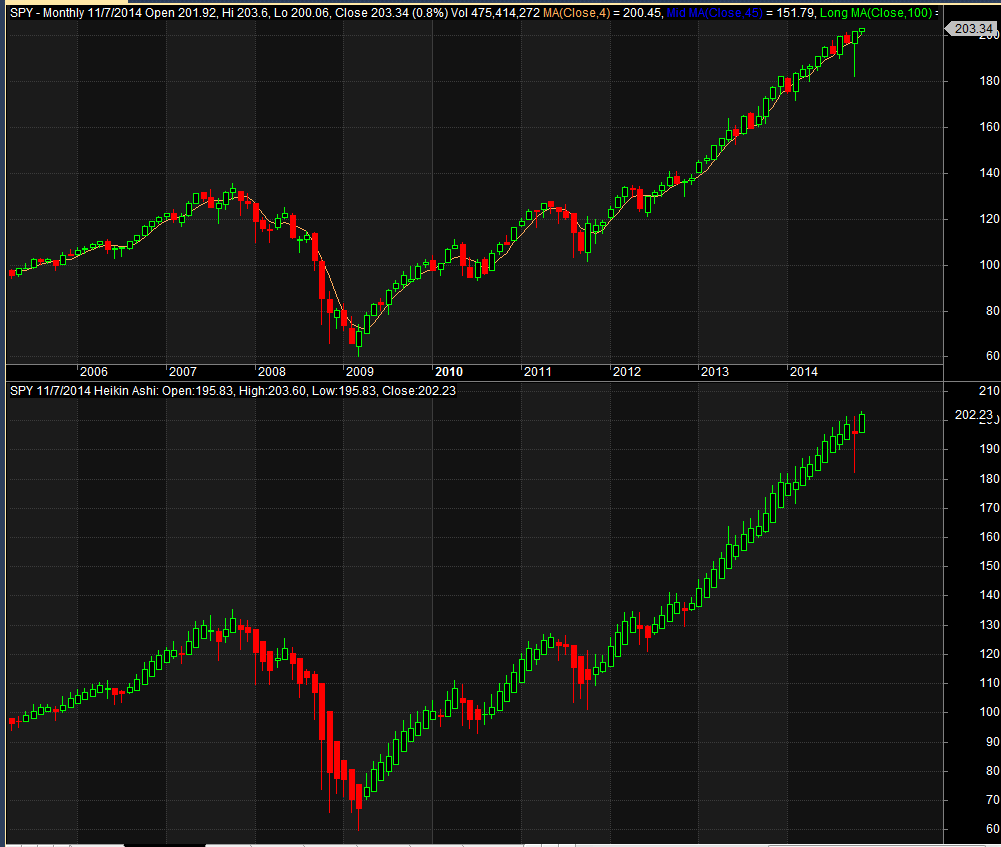 Time to test a simple strategy.
Heikin-Ashi Rules
Buy Rules
If the close of the monthly bar is green (Close greater than Open)
Enter on the open of the next monthly bar
Sell Rule
If the close of the monthly bar is red (Close less than Open)
Exit on the open of the next monthly bar
MA200 Rules (used for comparison)
Buy Rules
If the close of daily bar is above the 200 day moving average
Buy on the next day's open
Sell Rule
If the close of daily bar is below the 200 day moving average
Sell on the next day's open
Results
For comparison I have added the results of 'Buy and Hold' and MA200 strategy from above. The reason to compare against MA200 is that what I use frequently as a long term trend indicator for my mean reverse strategies. Could Heikin-Ashi be a better long term trend indicator?
DIA, SPY, QQQ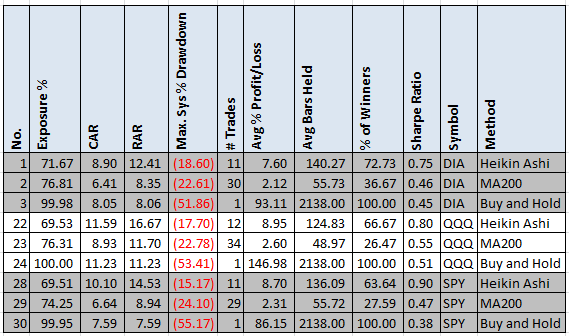 The Heikin-Ashi strategy outperforms the MA200 and Buy and Hold in all cases looking at all the metrics. Very impressive.
GLD, IYR, XLE, XLU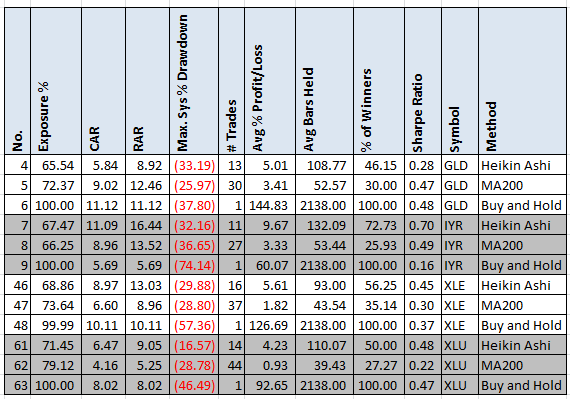 This is interesting. I was expecting Heikin-Ashi to shine on GLD but that is the one it did the worst with. For the other ETFs, it gave the best results.
Using monthly data on Heikin-Ashi seemed to be the trick on producing good results. Trying the same rules on daily data produced breakeven numbers at best. Not sure what I need to add to the rules to generate better results on daily data. I don't like using monthly data when trading my daily strategies.
Spreadsheet
Fill the form below for a spreadsheet of results. In the spreadsheet I have included yearly results. Results from the following ETFS: GLD, IPE, IYR, KBE, KCE, KIE, KRE, TLT, XBI, XES, XHB, XLB, XLE, XLF, XLI, XLK, XLP, XLU, XLV, XLY, XME, XOP, XPH, XRT, XSD, SH, SDS, SPY, DIA, QQQ are also included.
Also included is the code in AmiBroker to produce Heikin-Ashi charts.
Final Thoughts
Have you used Heikin-Ashi charts on stocks? If so, how? It looks like there is something here that can be used for stocks but I need to keep searching. Any ideas to what to try next?
Good quant trading,